Your E-Mail:
talia.arlov@gmail.com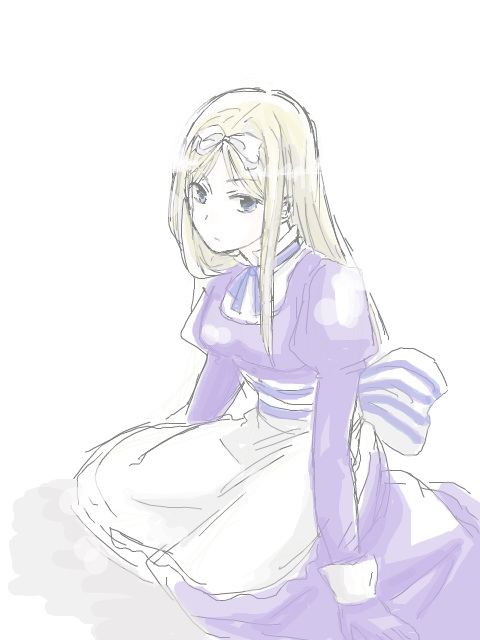 Human name: Natalia Arlovskaya
Country's name: Republic of Belarus
Personality section:
Natalia is a very standoffish type of person. In truth, it's more because she doesn't know how to get along with people, so she rather scare them off so they don't try to get close to her. Her seeming obsession with Ivan is based off the fact that he was always nice to her so she grew attached to him. As a child, it was worse, thinking he was the most important person in the world to her. However, as she grew older, though she still cares for him, she has grown to accept that it was a childhood infatuation. At this point, it's more habit than anything.
She is actually very insecure about a lot of things, but she hates to show any sort of weakness, so she covers it with a scowl and rudeness. If someone actually tries to become close to her, it would take some time for her to even accept the fact that they are willingly talking to her but eventually she might start opening up to them. Anyone who managed to get that far, she becomes fiercely protective of them to the point of physically threatening or harming anyone who may pose a threat, though her idea of a threat is a little skewed and broad.
Natalia is well trained in many expressive arts, from ballet and ice dancing to piano and violin. She typically uses these as a way to let out her inner emotions that she doesn't want to let out in any other way. If someone were to catch her after a successful session of any of these, she would be a lot calmer and more willing to talk and perhaps even smile. However, if the session wasn't successful, she would be even worse, more angry and outright ignore anyone who tries to speak to her. She also will never publicly perform any of these since they are her personal means of releasing her emotions and its private. If anyone were to be permitted to witness any of this, they must be important and trusted. It would be best that if anyone were to catch sight of this on accident to never mention it and act as though it never happened, since Natalia will ensure that they will never speak of it in whatever way she needs to.
Roleplay sample:
Natalia finished pinning her hair into its bun and, after making sure that no hair was out of place, left the changing room. The ballet studio was empty, having already cleared out from the previous class. She had an hour before the next lesson was to start and she would make the most of it. She walked over to the simple stereo that sat on the floor in the far corner of the room, wedged between the wall and the mirror, sitting in front of it with her legs crossed as she looked over the CDs she had brought. She picked out one and placed it in the stereo, stashing the unused CDs and pressing play.
She listened to the first calming notes of one of her favorite songs to dance to, eyes closed, before standing and moving to the center of the floor. Taking in a deep breath, she started into a well-rehearsed dance. Her eyes were closed as she let the music wash over her, focusing on every note, every step and arm position. Her body had memorised every step, so she didn't have to watch to make sure her form was proper. The moves were small, precise, and gentle.
As the tone of the song changed, so did the movements. They grew into large sweeping moves, every movement seeming to have more strength with an almost mechanical style. Natalia ignored the usual sting in her eyes as she danced, keeping in time to the music. A hitch in her throat and the sting becoming more prominent just proved that things were going as they should.
Once again, the music became gentle and the steps changed to match. There was no denying the wet streaks on her cheeks as she didn't falter in a single step or move. As the song continued to wind down, her movements slowed to keep to the rhythm of the music. This continued until the song ended and Natalia found her way into the finishing pose, a graceful bow. By the time the next song started, she was wiping away her tears and sniffling a little. A small release, but it was only the beginning. She listened to the next song, her eyes shutting again and waited for the moment to start.
Anything Else?: Some of the best teas are made from garden plants. (I refuse to use the word "awesome")